BASC steers 122nd CSC Day, presents annual huwang guro at kawani awards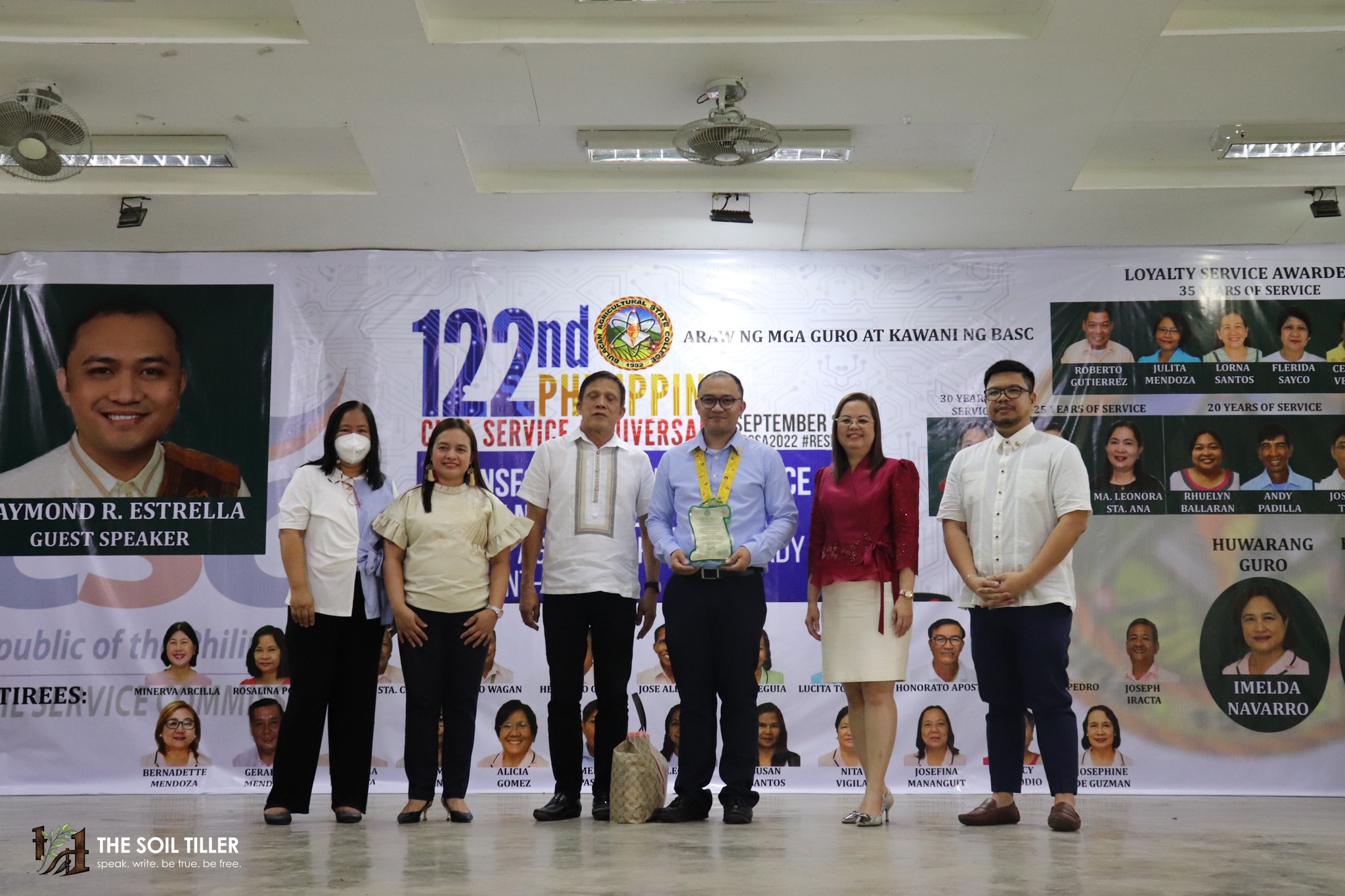 BASC steers 122nd CSC Day, presents annual huwang guro at kawani awards
Bulacan Agricultural State College (BASC) celebrated the 122nd Philippine Civil Service Anniversary, having Civil Service Commision's (CSC) 10-year overreaching theme, Transforming Public Service in the Next Decade: Honing Agile and Future-Ready Servant-Heroes, held at the college Multipurpose Gymnasium, September 27.
Mr. Raymond R. Estrella, Bank Associate of Bangko Sentral ng Pilipinas (BSP), acknowledged the quality education he received from his high school teachers produced by BASC, addressing the importance of the college to the community.
"We embody the true essence of 'bayan muna bago sarili'," Estrella said.
The event highlighted the Huwarang Guro Award acquired by Dr. Imelda Navarro and Huwarang Kawani Award awarded to Mr. Romeo Ponce.
Other BASC Loyalty Service Awardees are : Roberto Gutierrez, Julita Mendoza, Lorna Santos, Flerida Sayco, Ceferino Vendivil and Imelda Navarro were awarded for their 35 years of service, Pilar Vicmundo for her 30 years of service, Joselyna Quizon and Ma. Leonora Sta Ana for their 25 years of service, Rhuellyn Ballaran, Andy Padilla and Joselito Tucit for their 20 years of service and Rona Angela Clarin for her 10 years of service.
The event was concluded with the announcement of winners for Sayaw Galaw BASC Dance Contest with the Institute of Management winning 1st place; Administration and Finance, Quality Assurance Office, Management Information Systems, Planning and Development, Auxiliary Services for 2nd place; and Institute of Engineering and Applied Technology got 3rd place.
Written by: Geliza Jaslen G. Elopre
Photos by: Marie Katherine Palar
Layout by: Emmanuel D. Malonga
Lifted from: The Soil Tiller