BASC signs back-to-back Memorandums of Agreement (MOA)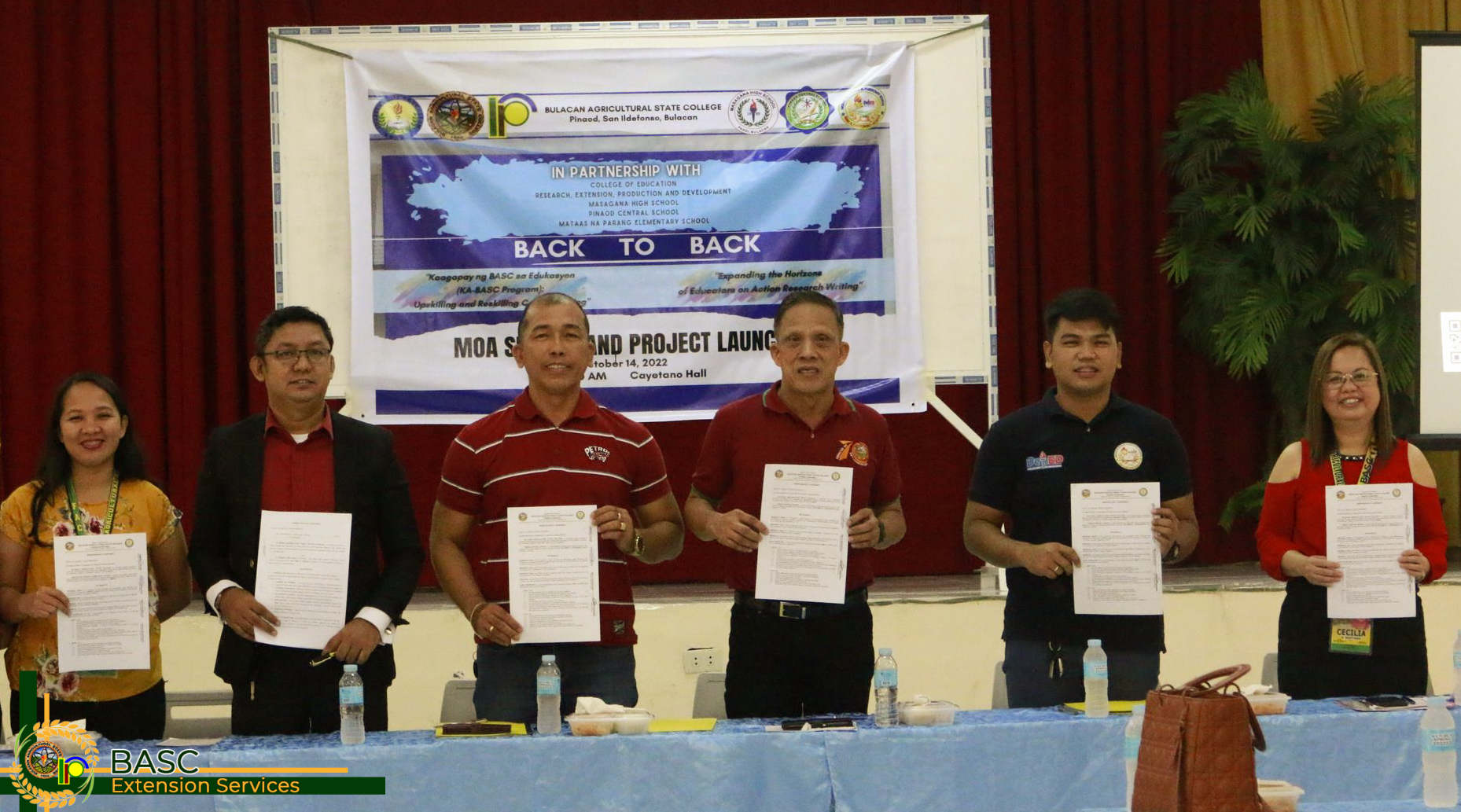 The back-to-back Memoranda of Agreement (MOA) signing held last October 14, 2022 at BASC-Cayetano Hall, Pinaod, San Ildefonso, sealed the collaboration between Bulacan Agricultural State College (BASC) and the three partner schools in the Department of Education (DepEd).
The MOA signing was spearheaded by Dr. Jameson H. Tan, the College President; Dr. Rico Paulo Tolentino, Principal II from DepEd-Masagana High School; Mr. Solomon Fernandez, Principal III from DepEd-Pinaod Central School; Mr. Adrian Garcia, Teacher III from DepEd-Mataas na Parang, Dr. Alvin De Castro, Dr. Imee Esguerra, Director for Extension; and Dr. Cecilia Santiago, Vice President for Academic Affairs.
The faculty of the three (3) mentioned partner schools will received support from BASC thru the Extension-Projects, "Kaagapay ng BASC sa Edukasyon (Ka-BASC): Upskilling and Reskilling Career Pathing" Program and "Expanding the Horizons of Educators on Action Research Writing".
The MOA signing was also attended by Dr. Honeylet Nicolas, Vice President of Research, Extension, Production and Development (REPD), Dean Maria Krisvie Abigale Mendoza, Director Jennifer Adriano, Program Chair of the Graduate Program, and Ms. Cynthia Sanchez, Associate Dean of the Institute of Education (IEd).Also present were the IED faculty and extensionists.