BASC shares PAFES-Bulacan LGUs rapid appraisal findings to stakeholders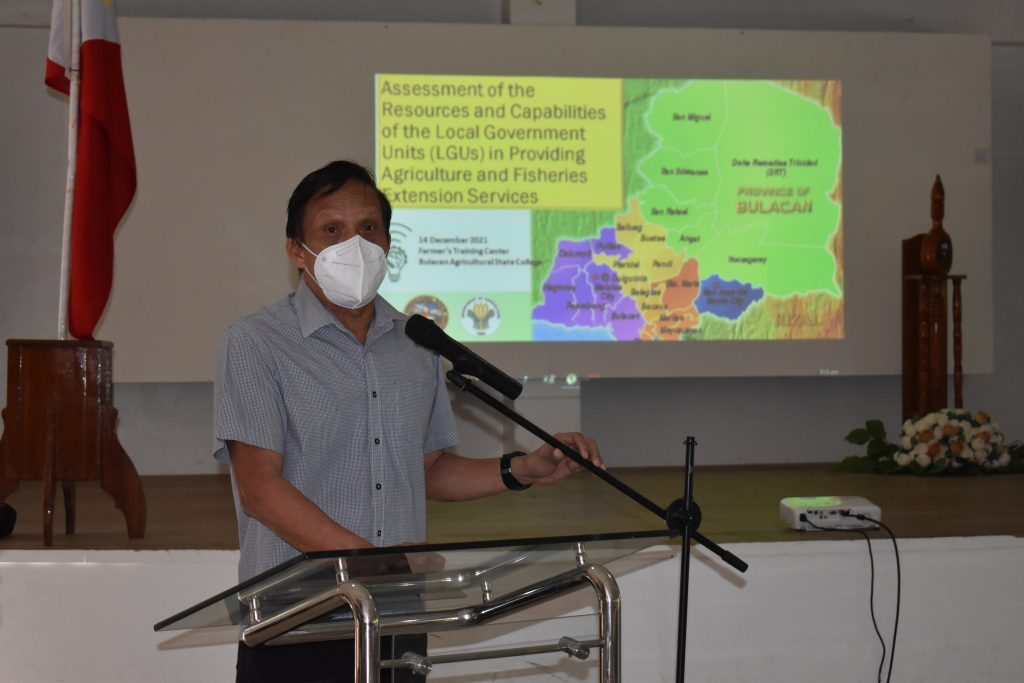 Bulacan Agricultural State College (BASC) through the project team of PAFES rapid appraisal in Bulacan LGUs has presented the research findings of the study titled "Assessment of the Resources and Capabilities of the Local Government Units in providing Agriculture and Fisheries(AF) Extension Services" last December 14, 2021 at the Farmer's Training Center of BASC.
The said study was conducted with the main objective of providing a landscape of the current design and implementation of the agriculture and fishery (AF) extension services in the province in relation to current resources of the LGUs, and in the implementation of the Mandanas-Garcia ruling in 2022.
Dr. Imee D. Esguerra, Extension Director and project leader presented the results of the study which highlighted the heavy reliance of Bulacan LGUs on grants and assistance given by the Department of Agriculture (DA) offices, its bureaus, attached agencies and attached corporations; low budget allotment of majority of the LGUs to AF sector; job mismatch, insufficent number and expertise of existing human resources; and consultative in nature planning process for AF sector.
Dr. Arthur D. Dayrit from DA-Regional Field Office 3 (DA-RFO 3), Mrs. Ma. Gloria SF. Carillo, Provincial Agriculturist of Bulacan, Engr. Agapito T. Pascual, Municipal Agriculturist of Norzagaray and President of League of Municipal and City Agriculturists in the Philippines-Bulacan Chapter, Bureau of Fisheries and Aquatic Resources personnel, farmers and fisherfolk leaders; and other Agriculture Office personnel have participated in the said activity. They also gave their comments and suggestions on the report presented to further improve its content.
The rapid appraisal report will be used as basis in crafting a complehensive plan for the implementation of PAFES in Bulacan in 2022.
Dr. Jameson H. Tan, SUC President III also graced the activity and delivered his welcome address while Dr. Susan C. Santos, VP REPD and also one of the project members, ended the program with her closing remarks. Other members of the project team were also present during the event.