BASC inks MOU with ICEPD-Thailand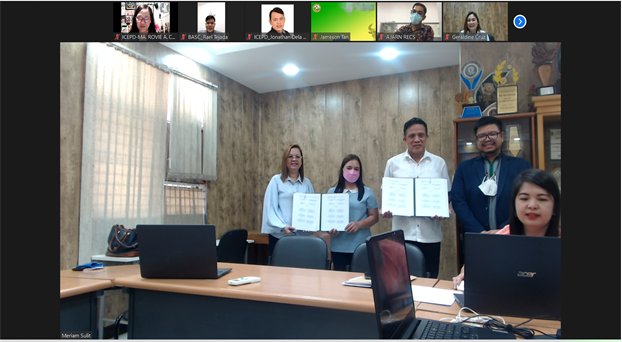 The Bulacan Agricultural State College notched up additional international linkage with the signing of the Memorandum of Understanding for Institutional Partnership between BASC and the International Cross-Cultural Exchange and Professional Development (ICEPD) -Thailand in a virtual ceremony held September 15, 2022. 
Dr. Jameson H. Tan, BASC President, and Ajarn Anong Sookkasem, Chief Executive Officer of ICEPD-Thailand led their respective organizations in the signing of the MOU. Other officials of both BASC and ICEPD-Thailand were likewise present to serve as witnesses and to show support to the said undertaking.
The partnership aims to forge collaborations between BASC and ICEPD-Thailand in a number of areas of common interest, such as education, training and research for a period of five (5) years which may be modified or extended as agreed upon by both parties. With this collaboration, opportunities for faculty and student exchange are now open for qualified members of the BASC community.
As the initial activity of the partnership, ICEPD-Thailand is teaming up with BASC for the 4th International Research Conference on Multidisciplinary Education in Administration and Management that will be held on December 17-20, 2022 at the Christian University of Thailand in Bangkok, Thailand with the theme  "Stewarding Transformation Towards Academic Fortitude, Leadership and Sustainable Development."
Both BASC and ICEPD-Thailand are looking forward to strong and lasting partnership. 
Dr. Meriam F. Sulit, Director of Internationalization and Local Linkages Office, leads the BASC in exploring viable partnerships and linkages with various organizations both domestic and international.