BASC faculty, farmer-cooperators trained on free range chicken production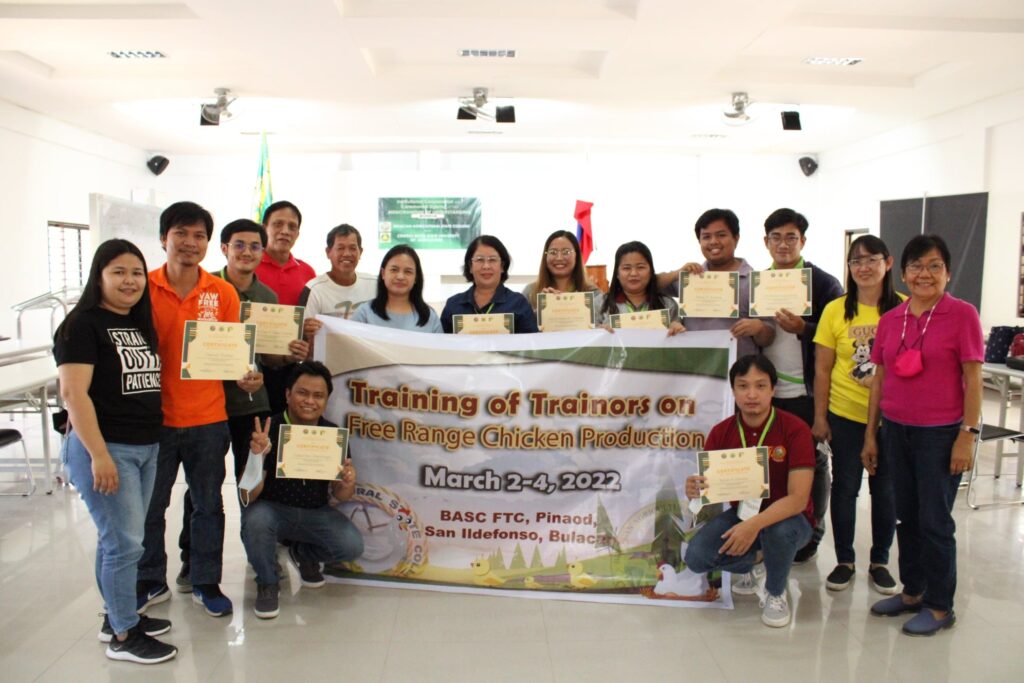 Faculty members from the College of Agriculture and Institute of Management, as well as farmer cooperators from the Sunday Farmers Agricultural Cooperative, attended the "Training of Trainors on Free Range Chicken Production" on March 2-4, 2022.
Three veterinarian-professors from the Tarlac Agricultural University served as speakers in this training at the Farmers Training Center of BASC. This was part of the memorandum of understanding between TAU and BASC for the project "Establishing a Viable Enterprise through Free Range Chicken Production Technology in Bulacan."
The speakers included Dr. Ma. Asuncion Beltran, the project leader at TAU for their FRC production project, as well as of several integrated RDE (research, development and extension) projects on FRC that were funded by various line agencies of the Department of Agriculture (DA). She is also the Vice President for Research, Extension and Training, and a Professor VI of TAU. The other speakers were Dr. Annalie Paragas, Assistant Professor III, and Dr. Allan Jeffrey FRancia, Assistant Professor II. They were also joined by one of their farmer-scientists on FRC, Mrs. Teresita Domingo.
During the Opening Program on March 2, 2022, the Vice President for REPD, Dr. Honeylet Nicolas emphasized in her message the importance of the training in developing a core of trainors from BASC who will be the ones to share the technologies to FRC farmers in Bulacan. She also introduced the speakers and highlighted the accomplishments of TAU-CVM including previous national Pag-asa awards from the Civil Service Commission. The BASC President, Dr. Jameson Tan, also graced the ceremony and challenged the faculty participants to also share the results of their research results to the community.
The "ToT on FRC" equipped the participants with the comprehensive set of competencies needed in managing their own free range chicken farms, and in organizing and conducting trainings on FRC production. Among the topics discussed were housing management, breeder stocks selection, brooding management, ranging management, feeding management, breeding management, and health management.
As part of the training outputs, the participants created their own strategic plans related to free range chicken farming. In her message in the closing program, the FRC project leader in BASC, Mrs. Joanna Marie Bradecina, thanked the participants and the whole team for the success of the training, and shared her hope that the participants will be able to push through with their plans, with the assistance of the project team.
The FRC project in BASC is funded by DA through the Agricultural Competitiveness Enhancement Fund (ACEF), and is being monitored by the Bureau of Agricultural Research (DA-BAR).